Phoenix Inside Out
The goal of this series is to enable you to be a Confident Phoenix developer. There are 3 different editions to address varied needs of devs jumping into Phoenix.
Standard Edition
The standard edition comes with two books: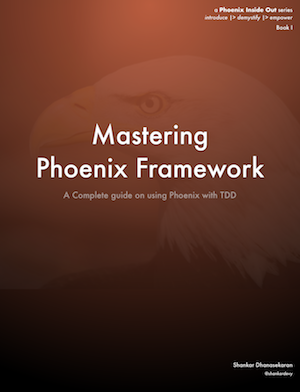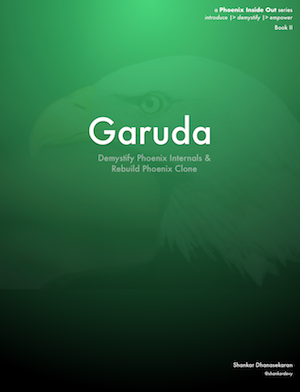 ❯ Mastering Phoenix Framework
A Complete guide on using Phoenix with TDD
Elixir basics. New to Elixir? Learning both Elixir and Phoenix at the same time can be daunting. However it need not be. You will learn just enough Elixir to dive into Phoenix and understand everything in this book.


Develop an ecommerce site in Phoenix using Test Driven Development (TDD)
With the basics of the language and the internals of Phoenix covered, you will learn how to use Phoenix in a real world project using TDD. You will learn everything it takes to develop an ecommerce site using Phoenix and deploy it using a variety of methods, including using Mix, Distillery release and Distillery release with Docker.

❯ Garuda
Demystify Phoenix Internals & Rebuild Phoenix Clone
Create a mini-Phoenix framework using Elixir and Cowboy. What can be the best way to understand Phoenix than to create it yourself? You will learn the basics of Cowboy and use much of the same magic used in the Phoenix framework to build your replica. By the end, you will know the nuts and bolts of how the Phoenix framework works.

Plug magic in Phoenix Endpoint, Router and Controller. If you have spent sometime with Phoenix, you might have heard that Plug is central in Phoenix and might know that conn is omnipresent in your app. But what are they and how do they help you? You will learn basics of Plug, how and where conn gets initialized and learn how the Phoenix endpoint, router and controller are just different names of plugs.


❯ Other things you'll get
You will get full access to all code repos used in this book.
Access to lots of handy reference cheatsheets!
---
Complete Edition
The complete edition comes with one book and one booklet in addition to the two books and cheatsheets from the standard edition.

Though Ecto is optional for Phoenix, most Phoenix applications will use Ecto for data storage. This edition includes an Ecto cookbook and has lots of code and exercises to give you complete confidence when using Ecto.
❯ All of Standard Edition +
❯ Ecto Cookbook
Ecto Cookbook covers a wide range of common Ecto related questions and provides solutions that you can use in your app. It covers all the major components in Ecto such as Ecto.Query, Ecto.Changeset and Ecto.Repo and covers all types of common associations.
❯ Blueprint for Phoenix Context
Phoenix's context is one of the most awaited features and attracts a lot of interest from the developer community, however, to effectively use it, there are not enough examples to follow. One of the most asked questions since Phoenix 1.3 RC is how to organize schemas using the newly introduced Phoenix context.
This booklet contains FAQs on context, ideas, brainstorming notes and a few examples of context divisions.
These examples will enable you to organize your project code avoiding common pitfalls like God-schemas and will be able to solve cross context relationships with better design.
---
Coach Edition
I want to make sure that everyone who purchases this Edition gets the right amount of my personal attention to their success. For this reason, this is a limited quantity edition. Each month, only 15 units are available for sale.
❯ All of Complete edition +
❯ One-on-one video call
While I believe the book is complete by itself to help devs to kickstart projects using Phoenix, there are definitely project specific challenges and questions that could eat up several days of your time if you just keep Googling around.
Save hours of frustation by getting into one-on-one video call with me for 1 hour to discuss any questions you may have regarding your Phoenix project.